Vehicle Tracking System is a software system accessible through laptops, desktops, and smartphones that allows the users to stay connected to their vehicles via GPS. It provides real-time insight into the geographic location of the vehicle and allows the user to monitor the driver by tracking speed, time in/out of a location, and more.
Along with exploring who needs the GPS vehicle tracking system, let's also understand the purposes it fulfills. The GPS tracking system is something that goes way beyond the dots on the map. Below are the key areas where it can help you as an individual and as a business:
1. Real-Time Tracking & Updates
GPS tracking system provides users with real-time updates and alerts over email, SMS, and mobile apps which are helpful for fleet owners. These alerts include but are not limited to location, dispatch status, AC and ignition status, geo-fencing entry/exit, over speeding, and battery cut.
Therefore, the user doesn't need to open the app and download reports for the important events and can get the continuous status of their fleet usage on their tips. Businesses can make great use of this feature to regulate their day-to-day operations, inform the clients regarding the delivery status and take instant real-time business decisions.
Parents/individuals can stay in touch with their child / other family members through these updates and can help them get timely assistance in case of any issue/emergency.
2. Better Driver Safety
Driver safety is the priority for every Fleet Management Business and individual. We as a family/businessman do care about our people. So, here is how the vehicle tracking system comes into play.
Safety undoubtedly starts with having the vehicles well maintained but we also need to focus on monitoring and improving driver behavior. GPS tracking system can help the user ensure that the driver is following safe driving practices on regular basis.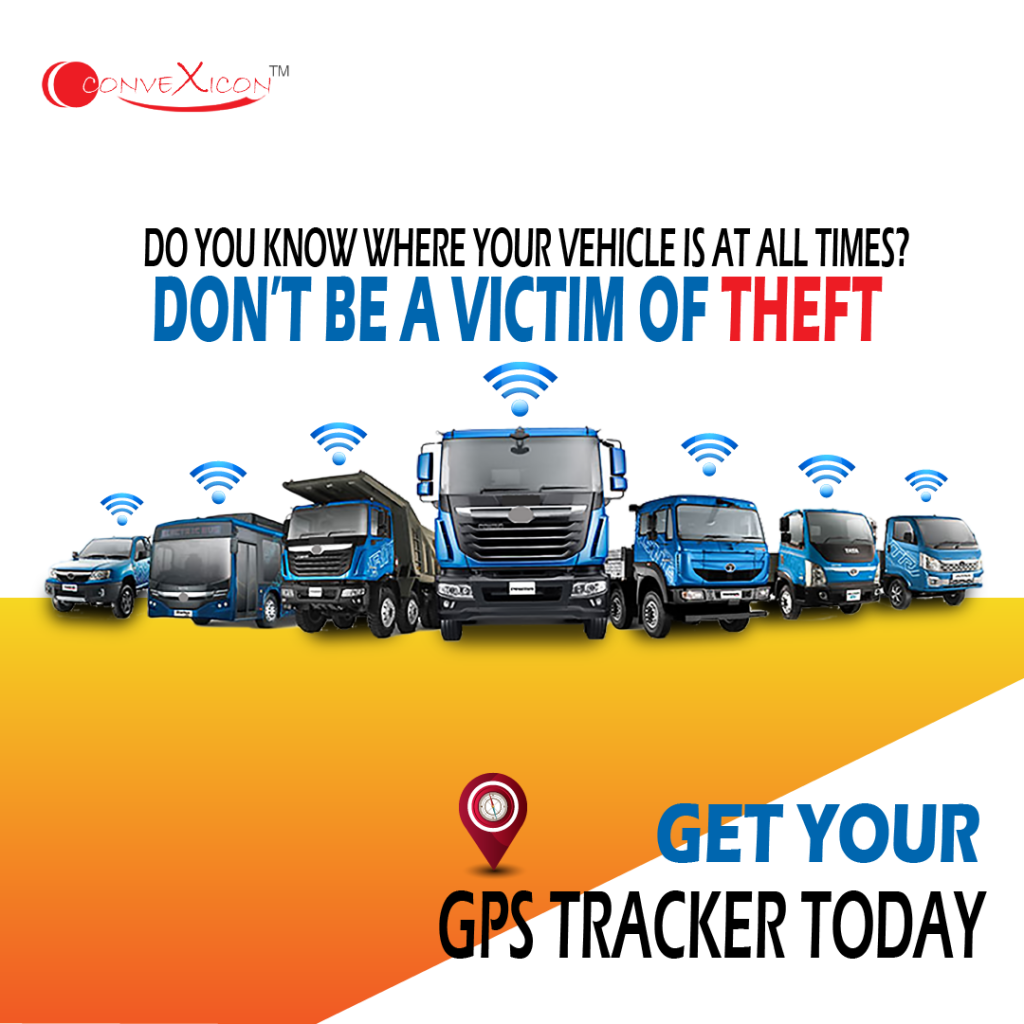 Most GPS vehicle tracking systems come with built-in accelerometers which continuously monitor the driving patterns and alert the drivers and assigned managers about poor driving events/behaviors like over speeding, harsh cornering, and harsh braking. The fleet managers can use this data to reward their best drivers and recognize cum help improve the poor drivers.
Popular GPS tracking solutions like that of Convexicon also provide the Service and Maintenance feature which provides the users with consolidated information on services and maintenance of your fleet. The information includes dates of vehicle services, tire changes, engine oil changes, due services, and other maintenance work requirements. Users can also view the required stats at any instants by checking the reports section. This feature allows the fleet owner to have timely maintenance done adding up to driver safety.
Also, for the personal vehicle, one can track how their vehicle is handled when used by any other user and parents can use the fleet management system to track the driving behavior of their teenage children who have just learned to drive and can help them improve using the stats.
3. Regulating The Fuel Costs
The fuel costs are the largest expense faced by the transport lines and are of no less pain for individual vehicle owners as well. The fleet owners, with the help of a GPS tracking system, can understand the poor driving behaviors that are causing them more expense on daily basis and can get control over the increasing fuel efficiency costs.
Also, when the drivers take the most direct routes to their destinations, it automatically leads to a reduction in fuel consumption. Therefore, using GPS tracking is a great fuel cost regulatory solution for all users.
4. Smooth Regulation Of Business Process
An important quote in business is: "If you can't measure it, you can't improve it."
Businesses can use the fleet management system to digitize their business processes as they will get easy access to the right information regarding job dispatch and proof of delivery. The data can be stored at a central location to create reports. Also, the pre-trip inspection and other fleet maintenance activities get digitized, simplifying their day-to-day activities.
The businesses can also monitor the time spent by drivers in reaching the destination, and time spent by them at job sites and can use the data to guide drivers towards better productivity.
5. Effective Job Allocation & Assistance
This feature is especially useful for taxi and logistics companies. The managers can easily view the nearby vehicles in the service area using the GPS vehicle tracking system to make the most cost-effective fleet allocation. Similarly, the most cost-effective assistance can be provided to a broken-down vehicle in case of an emergency.
6. Theft Protection / Recovery
Geofencing can help the fleet owners set alerts for any entry and exit of fleets to specified geographical boundaries to track any unusual activities or unauthorized access. Also, any delays in expected use as per a set calendar schedule can help the managers quickly identify unusual events/activities. If the vehicle gets stolen, location tracking can help the authorities to recover it.
Also, popular fleet tracking systems like Convexicon come with Anti-Theft functionality that allows a user to cut the engine power remotely and bring the vehicle to an immediate stop in case of unusual activity which can greatly help in avoiding theft in the first place.
Want to learn more? Request a demo to find out how you can benefit from fleet management services with Convexicon.
Contact Details / Request Demo Shortcut (Contact form/chatbot)