Ensure Student's Safety With Convexicon's School Bus Tracking Solution – Best Service Providers In Egypt
School Bus Tracking is beneficial for both the parents and the school authorities and a crucial thing in today's fast paced world. Being aware about kid's location, once they out of home and school premises leaves parents worry-free. With the technological advancements in Egypt, more and more schools are opting the school bus tracking technology and it also adds to their reputation.
Convexicon is one of the leading IoT solution provider in Egypt and provides an effective school bus tracking solution as well. With Convexicon's School Bus Tracking Solution, parents will get real-time notifications on their phones regarding the ETA of school bus, bus start, stops and reaching time and school authorities can monitor the students as well as drivers.
Furthermore, with the help of RFID chip, which can be securely placed anywhere on student's bag, users can track when the student boarded and de-boarded the bus. Kid's regular timesheet report can also be maintained using RFID based attendance. This provides complete security and leaves the parents and school authorities worry-free. In case of any delay, real-time notifications are sent to the parents and they can directly call the driver on duty using the app.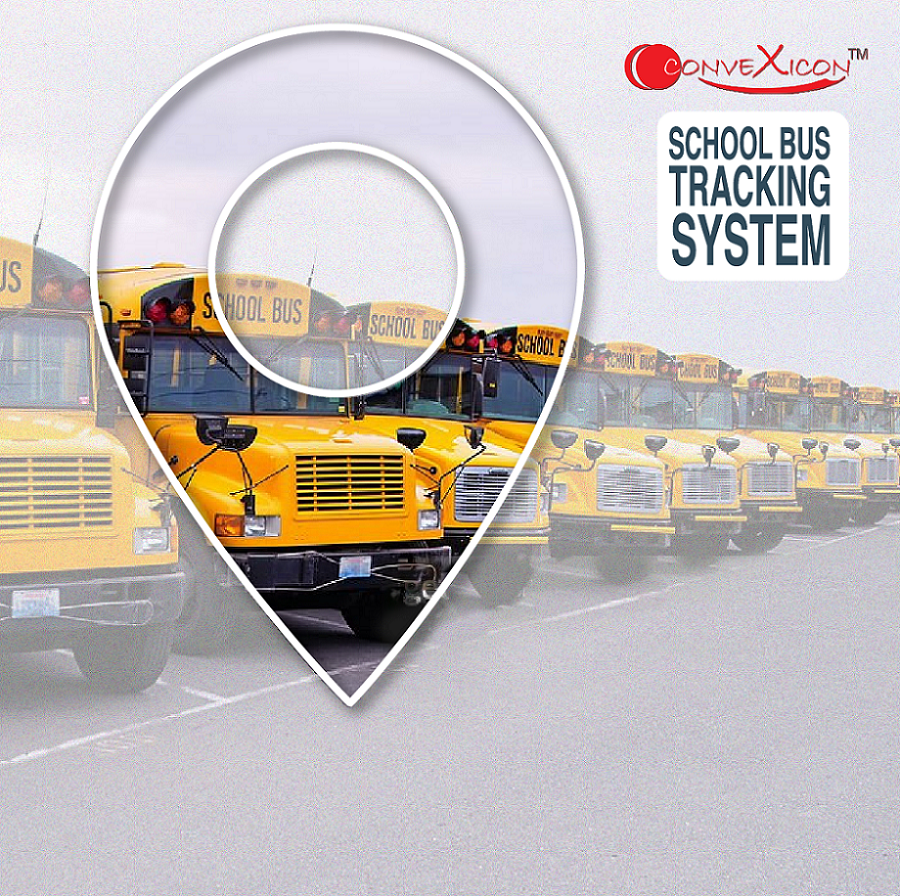 Convexicon's School bus tracking system also provides the route optimization which is a great help for new drivers and also helps in attaining maximum fuel efficiency. Any events of Excessive Speeding, Braking, Cornering & Acceleration are recorded and notified in real-time, which guides the driver to avoid any accident and increase their accountability. Any repeated incidents of harsh driving can be easily noticed by the school authority enabling them to take timely disciplinary actions.
What Is Unique About Convexicon's Real-Time School Bus Tracking Solution?
Convexicon is the leading provider of School Bus Tracking Solutions in Egypt and below are the key benefits provided, that makes it the best in market:
Ease Of Installation:
The Convexicon's School bus GPS tracking devices are easy to install and can be installed on your own using the easy-to-understand user manual. After installing the device, you just need to follow a few easy steps on the application and you will start getting real-time updates. In case, you require assistance, we provide on-site visit and can install the devices for you.
Ease Of Use:
The user applications are designed with ease of use in mind. Any novice attendant can use the application and even the elderly grandparents can easily use the application. The application also has contact options allowing the school authorities/parents to send notifications or contact the driver on duty.
Data Security:
The school authorities need not to worry about their data security as all the data is hosted over the cloud and kept secure using roper encryption methods. The data can be saved for required amount of time and any previous records can be fetched at any time using easy-to-use search filters.
Real-Time Updates:
Getting the updates in real-time is an important feature for the school tracking applications. Our applications provide updates in real-time in form of in-app notifications and text messages as well. Real-time updates on school bus ETA helps parents in receiving and onboarding their kids on time. For working parents who can't receive their kids on their own, the real-time updates bring a sense of relief.
Route Scheduling And Optimization:
The school authorities can use the admin functionalities to schedule and monitor regular routes. The real-time route optimization feature helps the driver to avoid any delays due to high traffic or bad roads.
Driver Behaviour Tracking – Enhanced Security:
With the real time information and records regarding unwanted accelerations, wrong routing and sudden breaks, school authorities can easily identify any undesirable driver behaviour and can take disciplinary actions including driver replacement. This acts as a great precautionary step to avoid any kind of mishap pending.
Child Safety:
With complete automation and control of transportation operations, the child is secure all the times. Real-time visibility of the school bus and child's presence tracking through RFID tags, the parents are bound to feel secure.
Real-Time Contact With Driver On-Duty:
In case parent/school authority need to reach driver for any sort of information exchange, they can view the details of driver on-duty directly from the application and don't need to contact the school's admin section. Similarly, the driver can also view the details and contact the concerned parent directly from the application. This makes the information exchange hassle free and real-time.
Analytics:
The real-time and over the time analytics can be beneficial in driver training and timely vehicle maintenance. The analytics are provided in the form of easy-to-understand charts, tables and graphs, and can be customised as per the user requirement. The application also supports the report export and print functionality.
Unmatched Support:
Convexicon's support cell is pro-active and any issue faced by the user is resolved in real-time. We have a record of 100% customer retention and provide best in class service.
Track Multiple Vehicles On Single Screen:
The school authorities can add information of multiple school buses using a single user login and view multiple buses on map on a single screen. This makes it easy for them to monitor all school buses in real-time. Again, adding multiple vehicles is easy and any novice user can do it using the simple steps. The guidelines are provided in the app itself and in case any assistance is required, you just need to click on the support button and our team will reach you out in real-time.
For more information, reach us at: https://www.convexiconindia.com/en-eg/contact-us/