The Smart Cities India Expo, held in Pragati Maidan, New Delhi, from 23-25 March 2022, is India's most prominent exhibition and conference that commemorate exhibitors, speakers, experts, and inventors, from the information and communications technology (ICT), broadcasting, and digital media industries. The 7th Smart Cities India Expo was jointly organized by International Trade Promotion Organization (ITPO) and Exhibitions India Group. The expo is a unique meeting point for Union, and State govt officials, private sector representatives, urban experts, foreign delegations, businesses, city leaders, etc.
The Expo also brought together the latest technological advancements and trends in the telecommunications and mobile industries, broadcasting and digital media, embedded systems, and emerging technologies and enterprise solutions, all under one roof. A large number of academics, scholars, politicians, industry experts, and decision-makers attended this three-day extensive expo as well as the most engaging conference, which helps shape India's smart and digital future.
This three-day international trade and business exhibition in India, brings together the true power of cutting-edge technology sectors under one roof, is the perfect place for discovering the latest breakthroughs in the world of technology. This combined exhibition and conference provides an excellent chance for industry leaders and influencers to explore the current trends and disruptions impacting many industry verticals.
The Smart Cities India Awards and the FinTech India Innovation Awards marked the conclusion of India's largest technology and infrastructure expo. A total of around 800+ brands and more than 100 startups participated in the three-day exhibition, which also included representatives from various government ministries, public sector organizations, and private companies. This three-day event brought together company founders, startup enthusiasts, and public and private players from a diverse range of industries and geographies.
Aside from that, this platform provides a great opportunity to:
1. Learn more about the newest technologies and advancements
2. Connect with like-minded professionals and industry leaders
3. Network with business professionals and industry gurus
4. Exchange business ideas
5. Obtain funding from investors
6. Learn from industry experts
7. And much more
Convexicon was one of the exhibitors at Convergence India Expo 2022 at the invitation of Uttar Pradesh Govt, by virtue of executing Solid Waste Management Projects in cities of Varanasi, Jhansi and Lucknow in the state. It was a great experience participating in such an event.
Why did Convexicon participate in Smart Cities India Expo 2022?
Undoubtedly, events and exhibitions like this are a great way to market and promote your company to the world. However, our perspective and aim went beyond this. Aside from marketing and promotion, Convexicon wanted to reach out to industry leaders and policy-makers to help them understand the benefits of utilizing AI-based Solid Waste Management Solutions, toilet monitoring systems and sewage hole monitoring systems.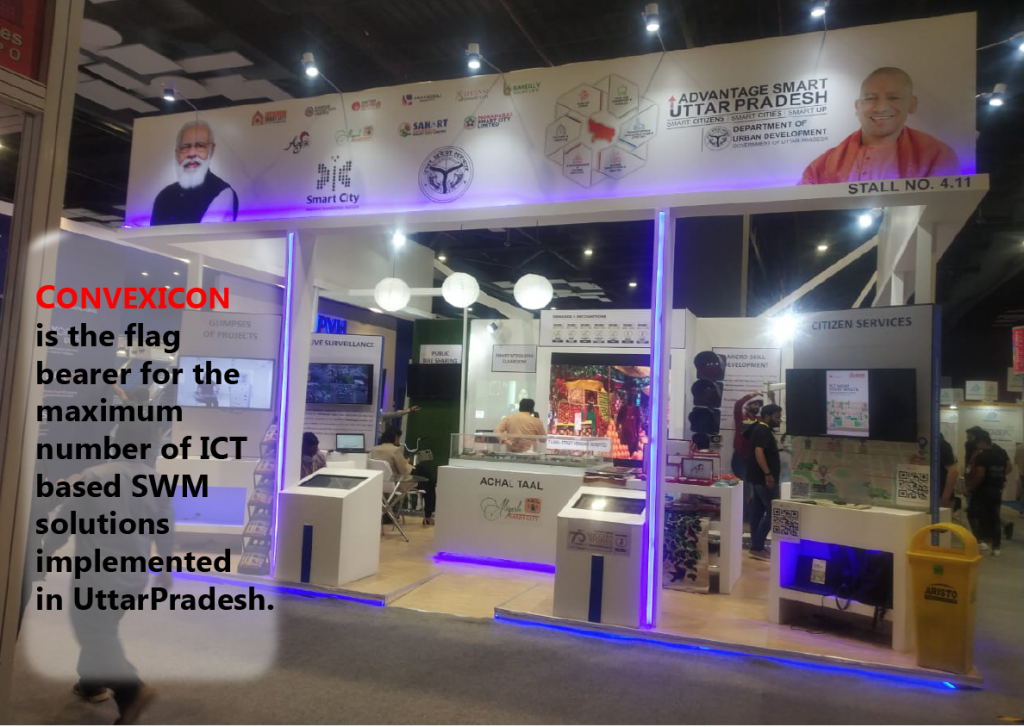 We at Convexicon are dedicated to helping the Government of India in its "Swachh Bharat" Mission. Convexicon is a market leader in India when it comes to creating smart solutions for Solid Waste Management. We develop innovative software solutions utilizing cutting-edge technology to aid state governments, quasi-governmental organizations, and commercial businesses in enhancing urban governance and critical public services' effectiveness and efficiency.
We want to assist agencies in implementing IoT-based waste collection monitoring systems, but first and foremost, we want them to grasp the benefits. And what better method to disseminate knowledge to the masses than by participating in such a large-scale event!
The Experience
Our representatives engaged visitors at the booth in a discussion about business concepts and technical solutions that we provide. Also, they helped them understand how our solutions can help them have improved sanitation throughout their cities.
Participating at Smart Cities India Expo 2022, one of the country's most prominent exhibitions and conferences, was an unforgettable experience. Meeting like-minded professionals and industry experts under one roof was an incredible experience in and of itself.
We received a tremendous reaction from visitors at our booth as our solutions not only piqued the interest of our visitors but generated admiration for the work that we do.