Due to the growing urban population and outdated waste management techniques, more and more cities are increasingly implementing technologies, such as RFID Tags based door-to-door waste collection monitoring systems, smart bins, intelligent vehicle tracking systems, etc., into their day-to-day operations. This, in turn, aids in streamlining the entire waste management process, from source to disposal.
IoT-based technologies have taken the municipal waste management system to a whole new level. Municipal corporations and urban local bodies are now able to real-time monitor the waste collection processes with the usage of such technologies with the integration of various sensors.
So, what makes waste management so effective?
The Internet of Things (IoT) has made bin monitoring a breeze for all. Not only is IoT-based technology affecting our daily lives, but it is also assisting government organizations and city municipalities in effectively managing urban garbage. IoT has made its importance felt in almost every domain, including home, industry, the environment, and health.
That is why more and more Indian cities such as Delhi, Lucknow, Jhansi, Hubli, and others are leapfrogging the competition by embracing technology. The additional advantage of tracking and monitoring garbage using IoT technology is that it also is a cost-effective option.
How is the door-to-door waste collection monitoring system helping urban bodies track the city's waste?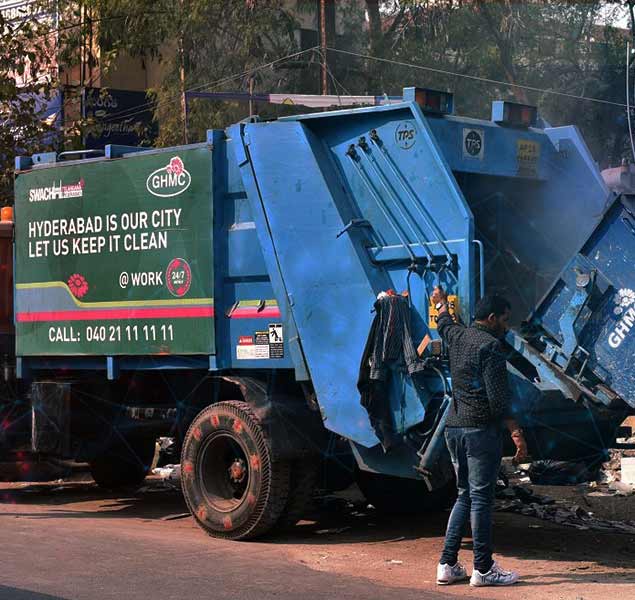 Convexicon, a Gurgaon-based Smart Solution Company founded by BITS Pilani alumni in 2010, has developed IOT based solutions helping our cities and towns to become smart and stay clean. Every day, India generates roughly 0.1 million tonnes of municipal solid trash. In large Indian cities, per capita garbage generation ranges from 0.2 to 0.6 kilograms, which makes Solid waste Management services in our cities all the more essential.
Consider some of the initiatives of Convexicon aimed at promoting smart solutions for monitoring end-to-end waste collection processes.
RFID-Enabled Door-to-door waste collection monitoring
By installing RFID tags at each property, the authorities in the municipal corporation can ensure that the waste gets picked from each and every house on a daily basis. Also, by using the same, they can hold the staff accountable for any lapse in duty.
Bin Level Sensors
These Sensors are being installed in public trash bins, also known as smart bins, to keep a real-time track of the status of the fill level of the bins. Bin level sensors in these garbage boxes provide signals to the corporation's command and control center whenever garbage in bins exceeds a certain threshold limit. Accordingly, the system alerts the nearest waste collection vehicle drivers as to which smart bin is full. The bins are then instantly emptied by the vehicle drivers without wasting any time.
The usage of smart bins ensures prompt clearance and gives end-users the ability to seek clearance on demand. This is the most efficient method of waste collection, saving both time and fuel aside from keeping our surroundings clean.
GPS Vehicle Tracking System
GPS Vehicle tracking system is another smart offering from Convexicon whereby Garbage collectors' whole fleet of vehicles is fitted with GPS devices as part of the GPS Vehicle Tracking System.
It assists municipal corporations, and garbage collection companies in obtaining real-time data about garbage collection vehicles and monitoring the routes such vehicles are traversing through. This, in turn, results in more vehicle productivity and lowering costs.
Digital Attendance
Digital attendance solution is another substantial endeavor of Convexicon that will go a long way in contributing towards the 'Swachh Bharat' mission. Previously, ensuring attendance and keeping track of the waste collector's schedule was a complex process. But now, with solutions like Biometric attendance, facial recognition technology, and smart wristwatches, tracking the routine of the field staff has become easier and streamlined.
Journey Ahead
The country's garbage volumes are set to soar as a result of ever-growing economic expansion, an increasing population, and improving living standards. According to a study, by 2030, India's municipal rubbish generation will have tripled.
These smart waste collection and monitoring solutions make the overall process easy to conduct and sound to follow through. There is no doubt that these smart solutions assist combat the problem to a large extent. However, raising social awareness about the benefits of a clean environment and efficient waste management is also critical. That said, additional cooperation from state governments across the country, private sector participation, labor training, and consumer participation will all be required for the success of these projects.
It wouldn't be unreasonable to expect the government agencies at all levels to take Solid waste management seriously and implement the best possible solutions, especially since we have already traveled a significant distance in our 'Swachh Bharat' mission journey.