With the fast development going around the world, the number of employees is also rapidly increasing in organizations of all domains. Managing employee attendance using manual registers and spreadsheets can lead to a lot of confusion and blunders. To avoid this, it is important to automate attendance management using digital solutions and centralize the data for effective reporting and decision-making.
Convexicon's GPS based staff attendance app allows organizations to digitize the clock-in and clock-out process and comes with a geo-tagged attendance feature as well. The organization admins or assigned managers can view their employee's location on the map in real-time with a single click on the cloud-based attendance tracking system. The location trail feature, which tracks employee locations throughout the day, is a boon for businesses with on-site employees. The system even tracks the speed at which the employee is traveling, which is especially beneficial for on-demand delivery businesses. Even if the internet connection goes off in between the route, our system allows for employee's location tracking once the user gets back into internet zone, and the data in such duration can be retrieved. The employee's battery status is also tracked and shown on the daily attendance app to identify any battery-based phone issues for better customer service.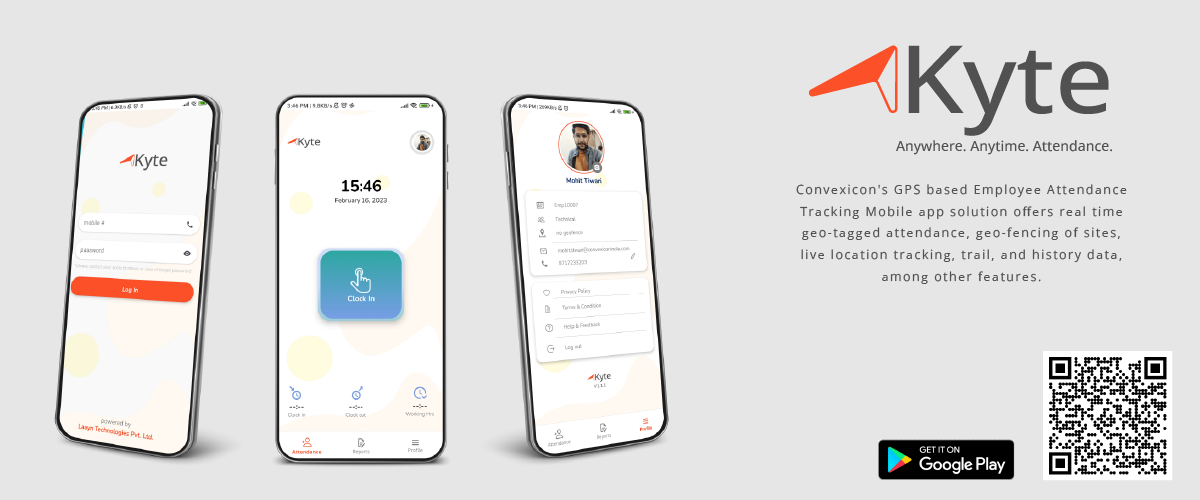 The Smart GPS Based Attendance Management System is also beneficial for organizations with employees working from home or specific client locations. Geo-fenced attendance tracking is provided to track employee presence within required areas. KYTE allows managers to add or remove employees from the geofence at any moment with ease if the situation demands it.
Our Online Attendance Software also allows managers to build and change employee schedules based on shifts or tasks assigned, and they can share the same with their teammates. The managers can easily set up time-off rules, break times, leave policies, and overtime rules using our intuitive UI. Using our Mobile Attendance app, HRs can save many man-hours, eliminate errors, and avoid discrepancies. The reporting module also aids in employee productivity tracking and decision-making. The attendance history is stored for 90 days and can be viewed and exported with a few clicks. Reports are available based on different factors, such as shift, job, team, date, employee name and ID. The detailed absentee management and late arrival reports are also available for effective employee attendance management system.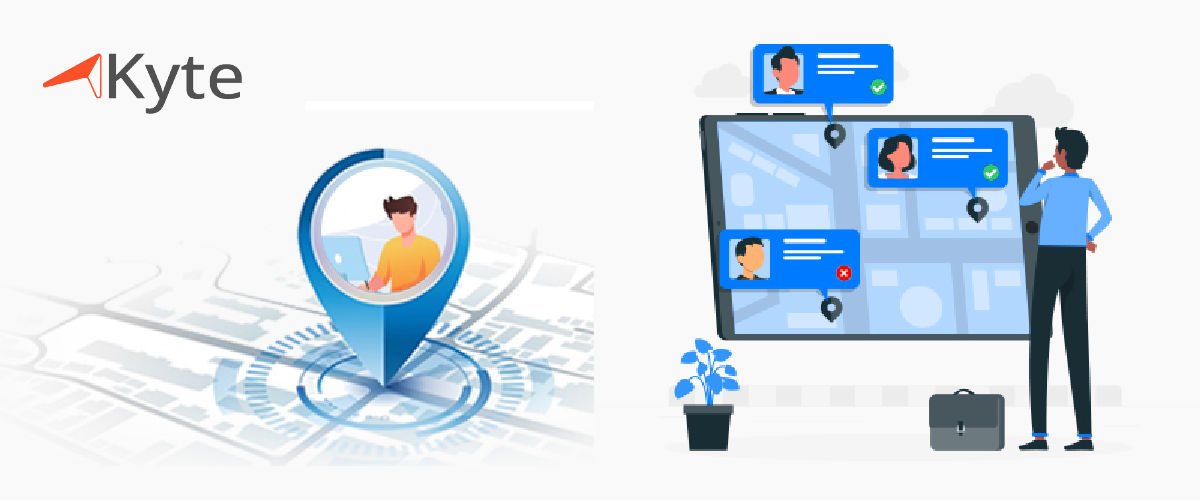 KEY BENEFITS OF CONVEXICON'S SMART GPS BASED ATTENDANCE SYSTEM:
Real time attendance tracking – Our online attendance app KYTE makes it easy for employees to clock in and clock out their shifts with ease and access their records at any instant.
Flexible attendance policies with customizable clock-in/clock-out sheets: Customizable clock-in/clock-out sheets give companies the ability to adjust their attendance policies based on factors such as employee schedules and work locations.
Geo-tagged attendance – In today's remote work environment, location-based attendance management software is an essential tool for companies to accurately track their remote employees' attendance. The geo-tagged attendance feature enables accurate and reliable attendance tracking for field employees.
Field employee tracking app – Our system is an ideal field employee tracking app that helps managers track employee locations in real-time, even if the internet connection goes off in between the route, as the history data can be retrieved post internet connection. By using our attendance tracking software with detailed time-tracking and discipline reporting, managers can ensure that attendance policies are followed and take action when necessary to address attendance issues.
Geo-fencing attendance tracking – The geo-fencing feature of our online attendance software allows for accurate on-site employee attendance tracking by creating virtual boundaries around specific work locations.
Saves time and resources – Real-time attendance reporting helps managers identify attendance issues as they happen and take corrective action to ensure better productivity, saving time and resources.
Cloud-based attendance tracking – Our e attendance tracking system provides secure and reliable data storage and accessibility.
Smart attendance tracking system for delivery management businesses: Our attendance tracker app is essential for delivery management businesses to ensure that their drivers are arriving and departing from delivery locations on time.
Convexicon's Smart GPS Based Attendance Tracking System is an effective solution that enables organizations to automate attendance system, track employee locations in real-time, and manage their resources effectively. With our mobile attendance app, organizations can save time, eliminate errors, and avoid discrepancies, leading to improved productivity and decision-making. Are you ready to simplify your employee attendance tracking process and improve productivity management? Try our smart GPS-based attendance system and streamline your workforce management today. Contact us to learn more or schedule a demo.